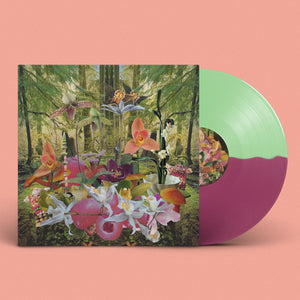 Return to Paradise Vinyl LP
Sale price Price $27.99 Regular price
Tax included.
Limited edition of  "Seafoam Jellyfish" vinyl.
The long-awaited repressing of Monster Rally's Return to Paradise.
"If Martin Denny and Madlib had a fully grown musical lovechild, that harmonious little stitch-job would no doubt sound like Monster Rally. " - SPIN Magazine
From the 2013 press release:
Following his move to Los Angeles from Ohio, Ted Feighan has returned with the next installment in his growing oeuvre as Exotica beatsmith, Monster Rally. Feighan's third full-length as Monster Rally, Return to Paradise, is decidedly faster paced and more percussion-heavy than last year's Beyond the Sea, producing an aesthetic that closely resembles his live performances. The tracks melt together in a mysterious, blissful, and romantic haze invoking that signature Monster Rally thrill of being in a timeless, hypnagogic limbo. The album is pure pictorial fantasy, translating the images of a half-century of National Geographics into 17 tracks that'll have both tiki drink connoisseurs and scotch aficionados swaying and bopping to the sweat and crackle of Feighan's latest beatscapes. As with his past releases, Feighan is eager to have his passport stamped, reluctant to stay in one paradise for too long. His wanderlust samplings travel from Peru to Japan, Detroit to Maui, and Ghana to Barcelona expressing the pageantry and ceremony of destinations only the truly intrepid have tasted before.
The artwork of Return to Paradise is greatly inspired by the LP jackets of classic Exotica albums: Martin Denny's Quiet Village, Les Baxter's Jungle Jazz, and Arthur Lyman's Bwana to name just a few. Over fifty different varietals of flowers and plants from around the world decorate the blossoming arrangement on R2P's cover. In addition, the packaging features printed sleeves showing a take on traditional Hawaiian patterned prints of native flowers and tropical birds. 
TRACKLIST
01. Monster Rally - Orchids
02. Monster Rally - El Retorno
03. Monster Rally - Barefoot / Eyes
04. Monster Rally - Palm Village
05. Monster Rally - Dizzy
06. Monster Rally - Lovely You
07. Monster Rally - Kingsley
08. Monster Rally - The Valley
09. Monster Rally - Tropical Showers
10. Monster Rally - Moon Magic
11. Monster Rally - Baja Samba
12. Monster Rally - Paradise
13. Monster Rally - Roses
14. Monster Rally - Dusty
15. Monster Rally - Panther
16. Monster Rally - Enchanted Wine
17. Monster Rally - Adios